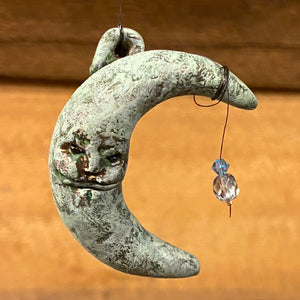 This Mystical Moon is a fun little surprise for any space or gift for the nature lovers in your life!
He is hand sculpted from Apoxie Scuplt, painted with acrylic paints. 
Apoxie Scuplt is a sculpting clay with the adhesive power of epoxy.  It can withstand mild to medium weather conditions.
He is created to hang & has a sturdy hook so he can be hung either indoors or out!  A small crystal has been added.  He is made from a very strong Apoxie mix clay, then coated with a epoxy resin that can withstand heavy rains but for the winter weather I suggest you bring her inside.
He is small enough to hang in your window or even a car mirror!
He measures Approximately 3 in length and 2 in wide 
*** PRICE INCLUDES SHIPPING ***